09 Dec

Inventories in the EMS-Industry are exploding

The stocks of electronic components in the warehouses of the EMS industry had already reached extremely high values ​​by the end of 2021. in4ma had shown that by the end of 2021 the stocks were already around EUR 14.3 billion, which corresponds to around 33% of annual sales. By the end of 2022, these inventories will have increased further to EUR 17.5 billion. It is striking that the stocks are significantly higher for the smaller EMS.

Even if there is still a misconception that the high inventories are positive because prices will continue to rise, the majority of the industry has long since understood that prices are falling and that the pace of price reductions will continue to increase in 2023. This then leads us directly to §253 of the German trade law, also known as the lowest value principle, which you will probably find as well in other European countries. You can now simply ignore this until the auditor draws your attention to it, but the fact is that stocks that are booked at purchase price and can now be bought cheaper on the market (replacement value) must be written off to replacement value. In addition, you will hardly be able to explain to your auditor that there is no regulated market for the components. Perhaps you will still be able to get price lists from your distributors by the end of the year, which will prevent this write-off; it will be over by 2023 at the latest.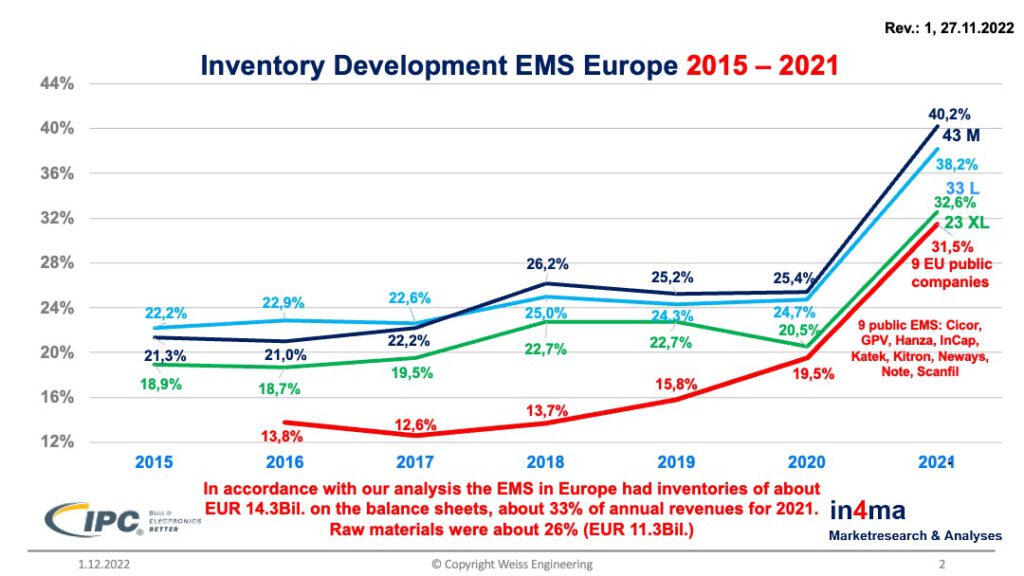 Since the distributors generally do not take back goods and are also currently operating with the new NCNR conditions (non-cancellable, non-returnable), another solution must be found, because the stocks cannot be maintained at this level. The goal should be to at least halve the raw materials stocks. Various EMS companies asked us for advice on this and we will open the virtual marketplace for electronic components in EMS-SCOUT (www.ems-scout.net) on January 1st, 2023. You can post your surplus components in this marketplace and offer them for sale.
Please contact us using the contact form on www.ems-scout.net and we will then inform you of the procedure. Setting up your components is free of charge for you and this marketplace is not planned as a permanent facility but is only intended to support the EMS industry in reducing stocks of raw materials.